Other high ecclesiastical dignitary from diocese of Irinjalakuda
Late Bishop of Trichur (1921-1942)​
Dr. Francis Vazhappilly was born on 18th May 1878 at Puthenvelikara, ordained on 22nd December 1906 and was nominated as Titular Bishop of Philadelphia and the Vicar Apostolic of Thrissur in 1921. He was consecrated on 6th July in the Lourdes Cathedral by the Delegate Apostolic H. E. Dr. Peter Pisani and took charge on the same day. On 21st December 1923 when the Syro-Malabar Hierarchy was established and Trichur was elevated to the status of a diocese, Dr. Francis Vazhappilly became the first Bishop of Thrissur. In 1929 he made the 1st "Ad Limina" visit to Rome. He passed away on 12th May 1942 and his body was laid to rest in the new Church of Our Lady of Dolours, Thrissur.
Late Bishop of Trichur (1944-1970)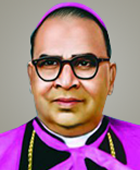 Born on 11th February 1900 at Karanchira, Dr. George Alapatt had his college education at St Thomas college Thrissur and ecclesiastical Studies and d.d at the Propaganda college, Rome, where he took also his Ph.D: He was ordained priest on 17th December 1927 and nominated Bishop of Thrissur on 11th March 1944. He was consecrated on 1st May 1944 at Our Lady of Dolours church, Thrissur by H.E. Dr. Leo P.Kierkels, the Apostolic Delegate and on the same day he took charge of the Diocese. He attended all the four sessions of the II Vatican Council 1962 – 1965. In 1968 the University of Detroit U.S.A conferred on him the Honorary Degree of Doctor in Humane Letters. in 1969, on the occasion of his Ep.S.Jubilee H.H.Pope Paul VI nominated him assistant at the Papal Throne. He retired on 4th June 1970 and was appointed the Titular Bishop of Irenopolis in Isauria. He continued as Ap. Administrator of the Diocese till 16th August 1970. While he was leading a retired life at Karanchira, his native parish, on 6th November 1973 he slept in the Lord and in accordance with his desire his body was interred in the St Pius X Convent Chapel at Karanchira.
The First Bishop of Palghat (1974-1994)
He was born at Poovathussery on 25 th February 1919. After his graduation, he had priestly studies in papal seminary, Kandy. Dr. Joseph Irimpan was ordained priest on 6th May, 1952. He has served in various capacities as Vicar, College librarian, Director of Legion of Mary, Director of Martha Bhavan, Secretary and Vice Chancellor of Trichur Diocese. While he was Vicar General and Vicar Judicial of Trichur Diocese, he was nominated the first Bishop of Palghat on 20th June 1974 and was ordained Bishop on September 8, 1974 and took charge of the Diocese on the same day. He retired on 06-12-1994. He slept in the Lord on 23-08-1997 and was buried in the cathedral church, Palghat.
Archbishop Dr. George Panikulam
Archbishop Dr. George Panikulam was born at Puthenchira on 26th October 1943. After school education he joined St Mary's Minor Seminary at Thope, Thrissur. His major seminary formation was at St Joseph's Pontifical Seminary, Aluva. His priestly ordination was on 11th March, 1967. After one year service at Lourdes Cathedral, Thrissur as Assistant vicar, he was sent to Rome for higher studies. He secured Doctorate in Sacred Scripture and Licentiate in Canon Law and Sacred Theology. Later he joined the diplomatic service of Vatican. While he was serving as the Vatican Observer in U.N.O., he was nominated the Titular Archbishop of Arpaia in Rome and the Apostolic Nuncio of Honduras in Central America on 4th December 1999 and he was ordained Archbishop in Rome by His Holiness Pope John Paul II on 6th January 2000. From 2003, he is serving as the Apostolic Nuncio of Mozambiquezin Africa.
Address : His Grace George Panikulam, Nunciatura Apostolica,
Av. Kwame NKrumah 224, C.P. 2738, Maputo, Mo cambique
Tel : (Off.) (00258) 1 491144, (Pers.) (00258) 1 496641, Fax : (00258) 1 492217,
E-mail : namoz.secret@tvcabo.co.mz
Bishop Dr. Thomas Antony Vazhappilly
Bishop Emeritus of Mysore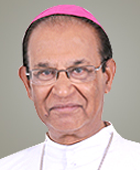 He was born on 11th April 1940 at Puthenvelikkara. After school studies, he joined the Minor Seminary of the diocese of Mysore. After the bifurcation he opted for the diocese of Chickamangalore. He was ordained priest in the year 1964. He started pastoral ministry at the Cathedral Church of Chickamangalore, Later he served at St Joseph's High School Chickamangalore, St Lawrence Church, Mallathur etc. He had higher studies in Rome and took doctorate in Moral Theology. He was Professor of Theology and Kannada. Literature in St Peter's Pontifical Institute, Bangalore its president from 1984 to 1990 and Rector from 1997 to 2003. He was consecrated the Bishop of Mysore on March 25th 2003 and took charge on the same day. He is the nephew of Mar Francis Vazhappilly, the late Bishop of Thrissur.
Address : Bishop of Mysore, Bishop's House, B.N. Road, Mysore 570 001
Tel: 0821-2443545, 2448395, Fax: 0821-2565708
E-mail:bishmysore@rediffmail.com, Web: www.dioceseofmysore.com
Auxiliary Bishop of Chicago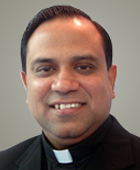 Mar Joy Alappatt was born at Parappukara, in Thrissur district, Kerala, India, on September 27, 1956 as the second son of late Mr. Varghese and late Mrs. Rosy Alappatt. He has two brothers and two sisters. His baptismal name is John and he is named after the patron saint of his parish, St John Nepomucene. He joined the St Mary`s Minor Seminary, Thope, Thrissur, after his high school. He completed his major seminary at St Thomas Apostolic Seminary, Vadavathoor, Kottayam. He was ordained priest by Mar James Pazhayattil on December 31,1981 for the diocese of Irinjalakuda. He served as Assistant Parish Priest at Chalakudy, Mala, and St Thomas Cathedral, Irinjalakuda. He earned his Masters in Theology from St Joseph`s Pontifical Institute, Aluva. He completed his Masters in Sociology from Andhra University. He served as a Chaplain and Mission Director of SyroMalabar community in Chennai, Tamil Nadu, India for six years from 1987 to 1993. He came to the United States in 1994 and served as Associate Pastor in Staten Island, New York and New Milford, New Jersey. He completed his Clinical Pastoral Education Program and worked at Georgetown University, Washington, DC, as a certified Chaplain. He was invited by Mar Jacob Angadiath in 2001 to serve in the St. Thomas Syro-Malabar Catholic Diocese of Chicago and he was appointed as the Director of Syro-Malabar Mission of Garfield, Newark and Administrator of Our Lady of Sorrows Church, Garfield. He was the Convener of Syro-Malabar Convention 2003, New Jersey. He has been serving as the Pastor (Vicar) of the Mar Thoma Sleeha SyroMalabar Catholic Cathedral, Chicago, Illinois since August 2011. He has written lyrics for several Christian devotional songs and published a few music albums. He is a known retreat preacher, an effective pastor with efficient administrative skills. As an Auxiliary Bishop, he will be serving the St. Thomas SyroMalabar Catholic Diocese of Chicago, together with Mar Jacob Angadiath, Bishop of the diocese.
Address : St. Thomas Syro-Malabar Diocese of Chicago
372 South Prairie Avenue, Elmhurst, Illinois 60126-4020
Phone: +1 (630) 279-1383 / +1 (630) 279-1386
Fax: +1 (630) 279-1479
www.stthomasdiocese.org
Apostolic Visitator for the Syro Malabar faithful in Europe
Mar Stephen Chirappanath was born December 26, 1961 at Puthenchira. After his philosophical and theological studies at St. Thomas Apostolic Seminary, Vadavathoor, he obtained a doctorate in moral theology at the Alphonsian Academy in Rome. He speaks Malayalam, English, Italian and German. He was ordained a priest on December 26, 1987 and has also held the following positions: Priest in Padua Nagar; Tribunal ; Director of the Centers for Drug Rehabilitation; Rector of St. Paul's Minor Seminary, Irinjalakuda; Professor, and then Vice Rector of St. Thomas Apostolic Seminary in Vadavathoor. Since 2011 he is the procurator to the Major Archbishop in Rome and the coordinator for the Syro Malabar faithful in Italy, offices which he will continue to hold. In recent decades, the emigration of Indians in the West has been growing significantly. Now there are Syro Malabar communities in different European countries: Italy, Austria, Denmark, France, Germany and Switzerland, as well as Ireland. The number of faithful varies from 11,125 in Italy to 7768 in Ireland, and only 30 in Denmark, with a total of about 30,000. There are 20 centers for the Celebration of 'Qurbana' (Liturgical Service) in Italy, 16 in Ireland, 10 in Austria and less in other countries, with about 35 priests. The Apostolic Visitor has the duty to visit the faithful of his Church living in Europe, interacting with the Ordinaries of the place to which they are entrusted, referring to the Apostolic See about their pastoral care.
Address : Apostolic Visitator for the Syro Malabar faithful in Europe
Abbazia di S. Bernardo alle Terme
Via Torino 94
00184 Roma, ITALY
Tel. 0039.06.482.0028, Cell: 0039.366.312.4882
Mar Sebastian Pozholiparambil

Bishop of Hosur
Bishop Sebastian (Jobby) Pozholiparampil was born on 1st September, 1957, at Pullur in the Diocese of Irinjalakuda. After his school education, he joined the St. Mary's Minor Seminary, Trichur, and had his philosophical and theological formation at St. Thomas Apostolic Seminary, Vadavathoor.
He was ordained priest on 22nd December, 1982. He holds a Licentiate in Theology from the Angelicum, Rome.
He served the Eparchy as Asst. Parish Priest at Aloor, and Parish Priest at Kaipamangalam, East Chendrappini, Cheelor, Padiyoor, Meladoor, Parappukara Forane, Thottipal and Cathedral Church.
He was Rector of the Spirituality Centre, Eparchial Finance Officer, Vice Rector of the Minor Seminary, Director of Santisadanam, Director of Legion of Mary and Secretary of the Presbyteral Council. He was formerly the Coordinator of Chennai Mission.
He was the Syncellus of the Eparchy of Irinjalakuda and Rector of St. Paul's Minor Seminary and Vocation promoter. He was ordained bishop on 22nd November 2017.
Mar Vincent Nellaiparambil

Bishop of Bijnor
His Excellency Msgr. Vincent Nellaiparambil was born on 30 May 1971 in Arippalam, and grew up in Thottippal, Mulangue, Trichur. He belongs to Saint John's Forane Church, Parappukkara, Trichur Districtt., Eparchy of Irinjalakuda.

He completed his primary and upper primary education from KSUPS Thottippal, while he completed his High School from PVSHS Parappukkara, in Thrissur district.
He received the Sacrament of Confirmation on 25 April 1987 and entered the Eparchy of Bijnor as a minor seminarian, attending Saint Joseph's Minor Seminary in Kotdwar until 1990. He attended the course in philosophy at Saint Joseph's Regional Seminary, Allahabad (1990-1993).
He obtained a degree in art from the University of Allahabad in 1994. He studied theology at the Saint Joseph Regional Seminary where he was awarded a bachelor's degree in theology in 1999.
He was ordained a priest on 8 April 1999, and after holding various pastoral offices, obtained a Master of Arts from the H.N. Bahuguna University, Srinagar-Garhwal, Uttarakhand in 2005 and a licentiate in systematic theology from the Dharmaram Vidyakshetram, Bangalore, in 2008.
He was head priest in two mission stations for six years. From 2008 to 2012 he was rector of the diocesan minor seminary, coordinator of formation of the Eparchy of Bijnor and non-resident member of staff of Saint Joseph's Regional Seminary in Allahabad since 2008, and resident member from 2012 to 2017.
He is currently head priest of the Mary Matha Mission Station in Chiniyalisaur, Uttarkashi District, Uttarakhand. Aside from Malayalam, he speaks Hindi and English.